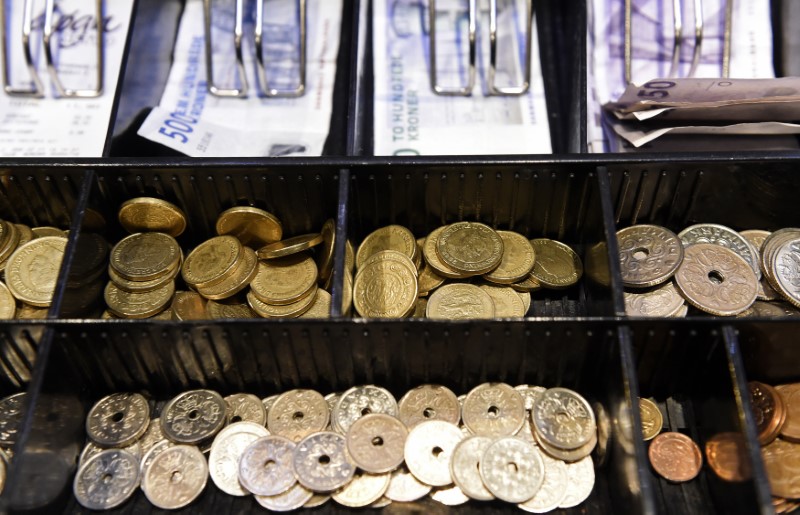 © Reuters. Coins in a cash-box of Danish crowns are pictured in a pub in Copenhagen
By Marc Jones
LONDON(Reuters) – Danish central bank governor Lars Rohde has played down the recent dip in the Danish crown, saying the move – which also has potential implications for the country's sub-zero interest rates – has been so small that he needed "glasses" to see it.
Denmark pegs the crown close to 7.4 per euro, but having cut its interest rates as low as minus 0.75 in 2015 to prevent the currency strengthening, it is now seeing it fall back as the European Central Bank preparations to wind down its stimulus lifts the euro.
It has triggered questions about whether it could encourage Denmark to raise its key certificates of deposit rate. It did inch it up fractionally to minus 0.65 percent at the start of 2016, but has not budged since.
Speaking to Reuters at an economics conference in London Rohde, however, suggested the move down in the crown had not been nearly large enough to require an adjustment of rates.
"It is a micro move. You can't see it without glasses," he said. "We are only moving interest rates if there is an imbalance in the currency," adding there was no sign of that at present.
The Czech Republic, which also flanks the euro zone, has raised its interest rates in recent months and Norway has signaled that it is edging closer to a move too.
The outlook for the Danish crown is likely to become clearer later this month when the ECB is expected to outline when and by how much it will cut its 60-billion-euro a month bond buying program.
Under the European Union's Exchange Rate Mechanism (ERM2), Denmark must keep the crown (EURDKK=D3) within 2.25 percent of 7.46038 per euro, although in practice it has not moved more than 0.5 percent either way as the bank intervenes in FX markets to keep it in check.
"Obviously we are following closely what is going on in the ECB but we do not know anything more than anybody else in the market what the ECB's intentions are," Rohde said.
He added that if the ECB's scaling down stimulus pushes up benchmark German and other euro zone borrowing rates, Denmark's were likely to follow – just as they fell when ECB quantitative easing started in 2015.
As long as the move is not too sharp Denmark is unlikely to have too many complaints though.
Last month the central bank raised its economic growth forecasts for 2017 and 2018, but also warned parts of the economy were at risk of overheating.
"I think the market forces will be (such) that this historically high correlation between German Bund and Danish government bonds will go on."
"We are one of the few triple-A nations left and the liquidity (in Danish bonds) is quite good and we expect that to remain the case when there is a change in policy from the ECB," Rohde said.
sponsoredArticle = 'div-gpt-ad-1466339494851-0';