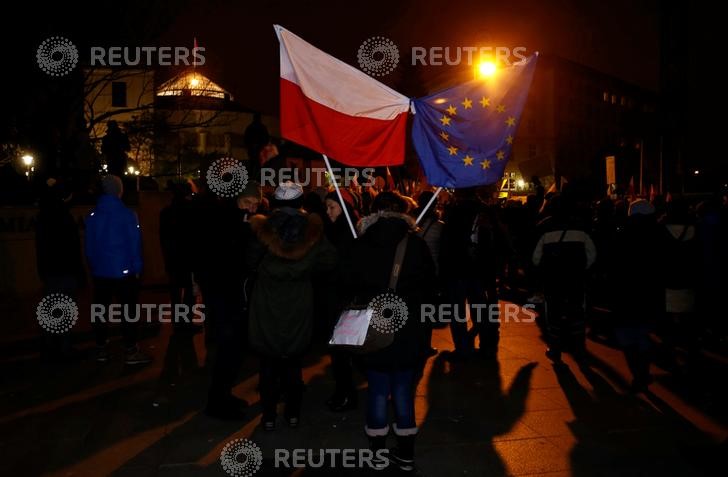 © Reuters. Interview: Poland unlikely to issue foreign debt in Q4 – deputy Finance Minister
By Pawel Sobczak
WARSAW (Reuters) – A budget surplus means Poland is unlikely to issue debt on foreign markets in the fourth quarter, though it may tap them again early in 2018, Deputy Finance Minister Piotr Nowak said.
The government also aims to reduce the proportion of its debt denominated in foreign currencies, he told Reuters in an interview cleared for publication on Monday.
"Taking into account the very good fiscal situation, a foreign bond issue would be unjustified," Nowak – who is responsible for debt management – said when asked about the fourth quarter.
Since taking office in 2015, the government led by the right-wing Law and Justice (PiS) party has sharply increased public spending to meet campaign pledges to help families and distribute the benefits of strong economic growth more evenly.
A crackdown on tax evasion helped the state budget post its first surplus for the January-August period in more than two decades.
The finance ministry said last week it had 75 billion zlotys (15.33 billion pounds) in budget accounts, equivalent to 3.9 percent of annual GDP.
Poland's last foreign debt issue was a 1.5 billion euro bond placed in March.
"A decision about a(nother) potential issue on foreign markets will most likely be taken at the beginning of next year depending on the market and budget situation," Nowak said.
In July, the share of Poland's 940 billion zlotys of outstanding debt held in foreign currencies was 31.4 percent.
Referring to a finance ministry debt management document published on Monday, Nowak added: "The Finance Ministry has a strategic goal to gradually lower the share of debt denominated in foreign currencies."
In the document, the ministry assumes this share will fall to below 30 percent by 2021.
Nowak also said that, while conditions for issuing debt in China were currently rather unfavorable, the ministry might consider another issue if this changed.
Poland has sold yuan-denominated bonds in China in 2016 and has a bond issue program in place there.
sponsoredArticle = 'div-gpt-ad-1466339494851-0';