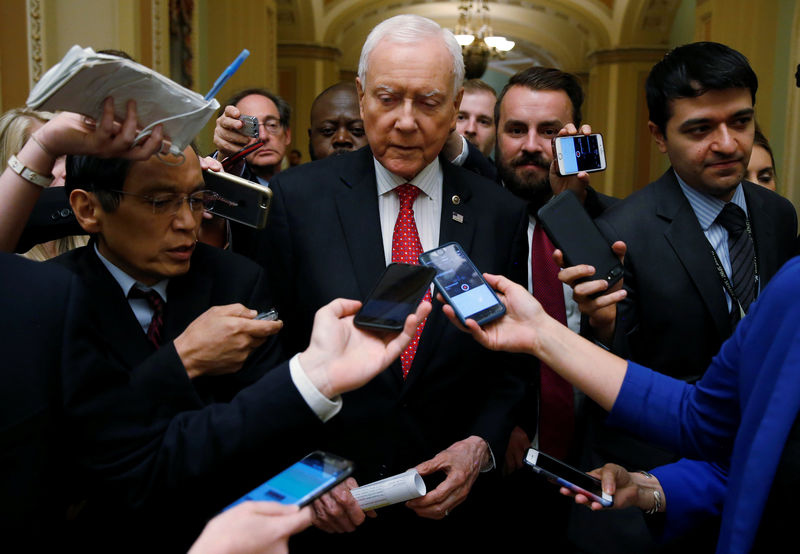 © Reuters. Senator Orrin Hatch speaks to reporters after meeting with U.S. Secretary of the Treasury Steven Mnuchin and Director of the National Economic Council Gary Cohn and Republican law makers about tax reform on Capitol Hill in Washington
By David Morgan
WASHINGTON (Reuters) – The U.S. Senate's top Republican tax law writer warned on Thursday that the "Big Six" negotiators from the White House, Senate and House of Representatives would not dictate to his committee the direction of expected tax reform legislation.
In a defiant statement coming as Republican leaders from the Trump administration and Congress prepare to unveil their tax reform framework, Senate Finance Committee Chairman Orrin Hatch said his panel would not be "anyone's rubber stamp" and that its legislation would reflect the consensus views of its members.
"The group – some have deemed us the Big Six – will not dictate the direction we take in this committee," he said. "The Finance Committee will not be bound by any previous tax reform proposal or framework when we start putting our bill together."
Overhauling the U.S. tax code is a top priority of President Donald Trump and congressional Republicans, but they have made little progress since taking power in Washington in January via a closed-door process that has excluded Democrats.
The "Big Six" were at the center of this process. Hatch is a member of the select group, along with other Republican tax law writers from Congress and Trump's top economic advisers. Even after months of talks, basic questions of the Republican tax plan remain unanswered, such as whether or not the tax cuts they want will expand the U.S. budget deficit.
Some Republicans have signaled support for deficit-fueled tax cuts, while others oppose the idea and demand revenue-neutral changes, possibly linked to federal spending reductions.
"Disagreements over both substance and process are driving a wedge between senior House Republicans involved in the tax writing process and their Senate counterparts," Henrietta Treyz of investment advisory firm Veda Partners said in a report.
At a hearing on his panel's latest tax debate, Hatch seemed to depart from the purely partisan approach represented by the Big Six. "My preference is to move tax reform through this committee with bipartisan support," he said.
"I have no desire to exclude my Democratic colleagues from this discussion … I'll note that the president and his team have publicly said the same thing this week."
In a series of White House meetings with top Democrats in recent days, Trump has shown a new willingness to deal with his political opposition on a range of topics, including taxes.
House Republicans announced on Wednesday that a new tax reform framework would be unveiled on Sept. 25.
Hatch pushed back on claims Republican tax legislation would primarily benefit the "uber rich" and "greedy corporations".
"While these claims are about as predictable as the sunrise, they are simply not true," Hatch said. "That has never been our focus, and it is not our focus now."
Senator Ron Wyden, the finance committee's top Democrat, dismissed Trump's argument on Wednesday that tax reform could raise taxes on the wealthy, saying Trump's proposals would provide top earners with a "lunar crater-sized" loophole by slashing taxes on business income from companies organized as pass-throughs.
"It endows future generations of the mega-wealthy," Wyden said of the one-page tax plan Trump unveiled in April.
sponsoredArticle = 'div-gpt-ad-1466339494851-0';