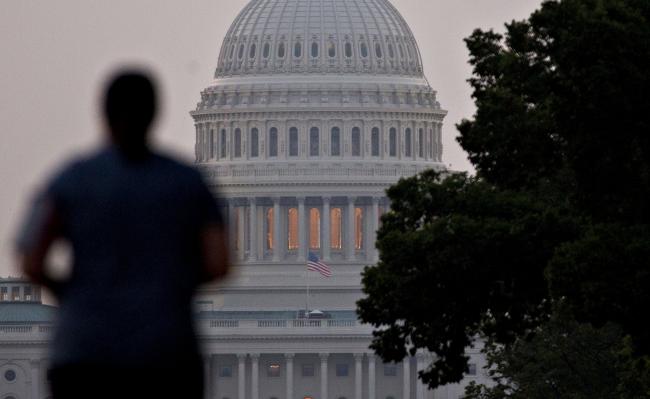 © Bloomberg. A runner passes in front of the U.S. Capitol in Washington, D.C., U.S., on Friday, July 28, 2017. A months-long effort by Senate Republicans to pass health legislation collapsed early Friday after GOP Senator John McCain joined two of his colleagues to block a stripped-down Obamacare repeal bill.
(Bloomberg) — President Donald Trump's tax proposal would probably weigh on the U.S. government's credit outlook, on concerns that it would cause the federal deficit to swell, according to Moody's Investors Service.
"The Trump tax framework is likely credit negative for the U.S. government," Moody's said in a statement. "Tax cuts would not be offset by equivalent cuts to spending, which would put upward pressure on the federal budget deficit and debt," while "the tax reform's effect on economic growth and, in turn, federal government revenue would also affect U.S. credit strength."
By contrast, banks, insurers and asset managers would benefit from a lower tax rate, Moody's said.
The Trump administration is trying to build momentum for the Republican proposal against criticism that it would heap trillions of dollars onto the national debt. The White House and Republican congressional leaders have provided few details about how they'll offset large cuts to corporate and personal income tax rates. Trump said Friday the overhaul will be like "rocket fuel" for the economy.
sponsoredArticle = 'div-gpt-ad-1466339494851-0';